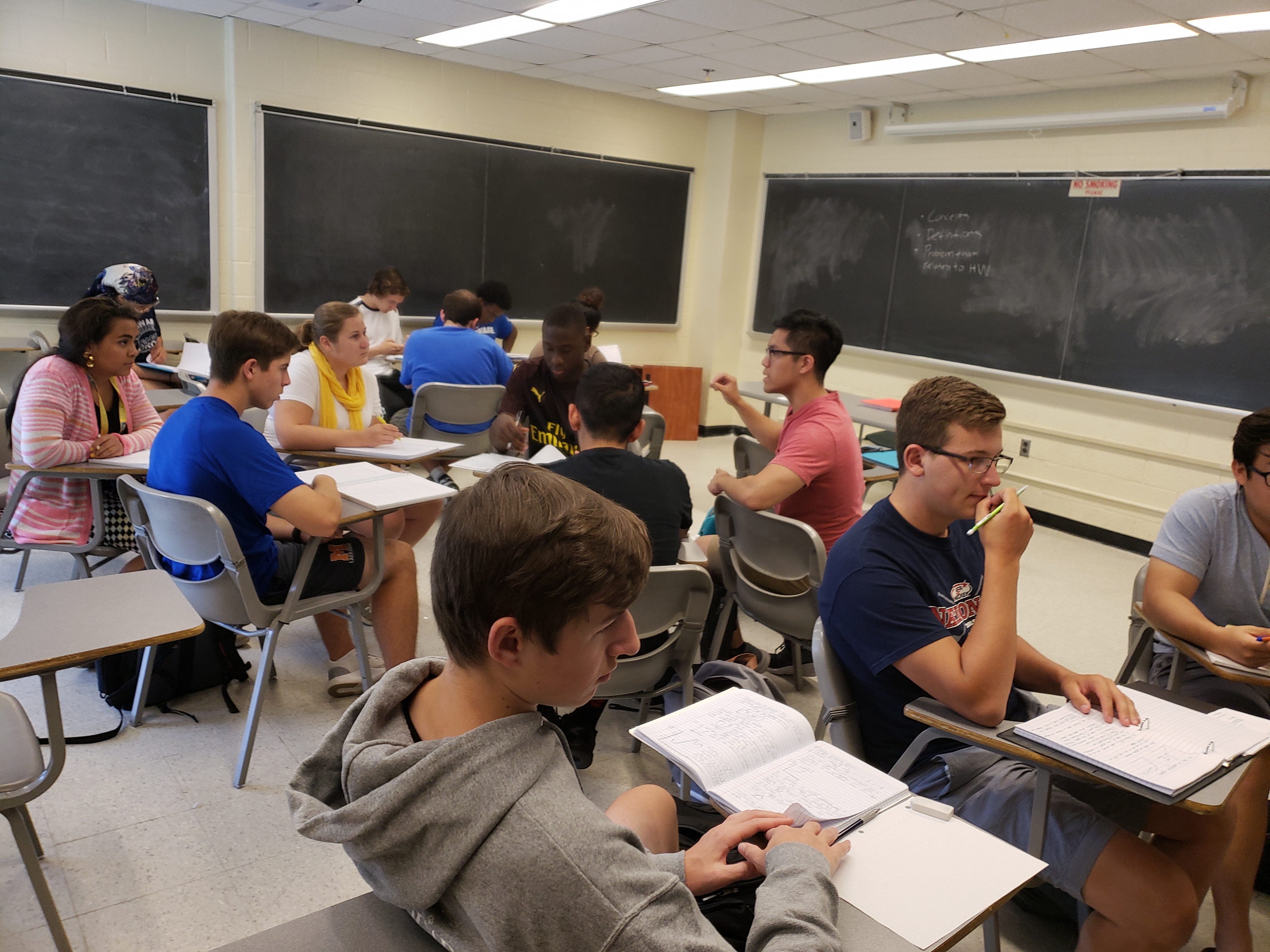 Peer-Assisted Study Sessions
PASS is a series of ongoing weekly study sessions for students taking difficult courses. The program provides a learning opportunity for all students who want to improve their understanding of course material and improve their grades. Our sessions are led by undergraduate students who have performed well in the class previously. (We have revamped our Supplemental Instruction (SI) program model to create the PASS program, a peer-assisted study session opportunity for all UD undergraduates.)
Participation is FREE and voluntary.
PASS program levels are defined below:
PASS Level 1 (PL1): are typically put into place when a professional staff person has identified a need and or has made a request for additional ongoing support. Formats include, but are not limited to drop-in, study sessions and/or exam review prep. This structure can be adjusted to fit the needs of class demands, it does not follow the traditional PASS level 2 model. Students should come to sessions prepared with questions.
PASS Level 2 (PL2): provides a collaborative learning opportunity at the start of the semester. The leader is trained to engage students and guide them through material using group activities during each session. Leaders also attend class with students during the semester to review course content, take notes, and build relationships with students and the professor. This ultimately enhances our leaders' connection with the students, helping their holistic understanding of the course. Students do not need to come to the session prepared with questions to ask, PL2 leaders will have activities pre-planned. Leaders hosts these sessions 2-3 times a week throughout the semester.
Benefits for the student include the opportunity to:
meet with classmates to compare notes
discuss important concepts and practice understanding
develop strategies for studying the subject
review and create study guides
ask questions in an instructor-free zone
Spring 21 PASS Session details coming soon:
CHEM103
PSYC100
PSYC100
PHYS207
MATH 114
Class
Day 
Time 
Leader
Zoom ID

CHEM 102

Mondays
1:00 P.M.- 2:00 P.M.
Alice
CLICK HERE

CHEM 103 (PL2)

Sundays
5:00 P.M.- 6:00 P.M.
Kristie
CLICK HERE

CHEM 103(PL2)

Mondays
2:00 P.M. – 3:00 P.M.
Kristie
CLICK HERE

CHEM 103(PL2)

Fridays
11:00 A.M.- 12:00 P.M.
Kristie
CLICK HERE

CHEM 104 Exam Review

Wednesday, 4/14
4:00 P.M.- 5:30 P.M.
 Alice
 CLICK HERE

CHEM 104 Exam Review

Wednesday, 5/12
 4:00 P.M.- 5:30 P.M.
 Alice
 CLICK HERE

CHEM 104 Exam Review

 Tuesday, 5/18
3:30 P.M.- 5:00 P.M.
 Alice
CLICK HERE

MATH 114(PL2)

Mondays
3:30 P.M.- 4:30 P.M.
Sophia
CLICK HERE

MATH 114(PL2)

Tuesdays
4:30 P.M.- 5:30 P.M
Sophia
CLICK HERE

MATH 221(PL2)

Tuesdays
8:00 P.M.- 9:00 P.M.
Joel
CLIK HERE

MATH 221(PL2)

Thursdays
8:00 P.M.- 9:00 P.M.
Jeel
CLICK HERE

PHYS 207(PL2)

Wednesdays

3:30 P.M.-4:30 P.M.

 Emma

CLICK HERE

PHYS 207(PL2)

Tuesdays 

5:00 P.M.- 6:00 P.M.

Emma

CLICK HERE

PHYS 207 (PL2)

SUPER SESSIONS

3/14, 4/11 and 5/23

4:30 P.M.-  6:30 P.M.
Emma
CLICK HERE

PSYC 100

Tuesdays
1:00 P.M.- 1:30 P.M.
MacKenzie
CLICK HERE

PSYC 100

Tuesdays
4:00 P.M.- 4:30 P.M.
MacKenzie
CLICK HERE

PSYC 100

Wednesdays
2:30 P.M.- 3:30 P.M.
MacKenzie
CLICK HERE

PSYC 100 (PL2)

Thursdays
5:00- P.M.- 5:30 P.M.
Kailey
CLICK HERE

PSYC 100(PL2)

Thursday
5:30- P.M.- 6:00 P.M.
Kailey
CLICK HERE

PSYC 100(PL2)

Fridays
1:00 P.M.- 1:30 P.M.
Kailey
CLICK HERE

PSYC 100(PL2)

Fridays
1:30 P.M.- 2:00 P.M.
Kailey
CLICK HERE